If you're noticing fine horizontal lines starting to appear across your neck, you're not alone. There's a good chance what you're seeing are the beginning signs of Tech Neck wrinkles.
When we talk about skincare, most people think of products designed to treat signs of ageing on their face. The neck is one of the most forgotten areas when it comes to using skincare products, yet it's just as vulnerable (if not more) to signs of ageing as the face. Tech Neck is another way lines and wrinkles show up in this delicate area.
So, what is Tech Neck? Read on to learn more about how technology overuse can turn into Tech Neck wrinkles.
What Are Tech Neck Wrinkles?
It's no surprise that the amount of time spent on our smart phones and small screens continues to grow by leaps and bounds. A recent study shows that adults spend nearly seven hours on average looking at their screens per day. The sheer amount of information and entertainment we hold in our hand is fantastic, but it also comes with a price tag for our skin.
Tech Neck wrinkles are lines that form across the neck from repeatedly looking down at our handheld devices. The neck is particularly susceptible to this type of repeated motion because the skin in this area is thinner, more delicate and has fewer oil glands than the face does. Add in ageing factors like a reduction in collagen and elastin and these lines can become even more noticeable.
Can You Prevent Tech Neck Wrinkles?
There are many practical lifestyle tips to help prevent these unwanted Tech Neck wrinkles. First, ensure that all your screens (mobile, laptop, television) are positioned at an optimum level so that you are not looking down at them. Hold or set your phone at eye level and when you're at your computer or television, position your screen high enough so you can look straight out at it, rather than down.
Next, keep your skin hydrated. This can help address Tech Neck lines by keeping your skin plumper and firmer looking. Invest in topical skincare products to help smooth, hydrate and plump the skin. SPF protection is another way to help defend against the formation of unwanted Tech Neck lines and wrinkles.
Most importantly, limit your screen time on these devices! Experts agree that a healthy screen time outside of working hours is less than two hours per day.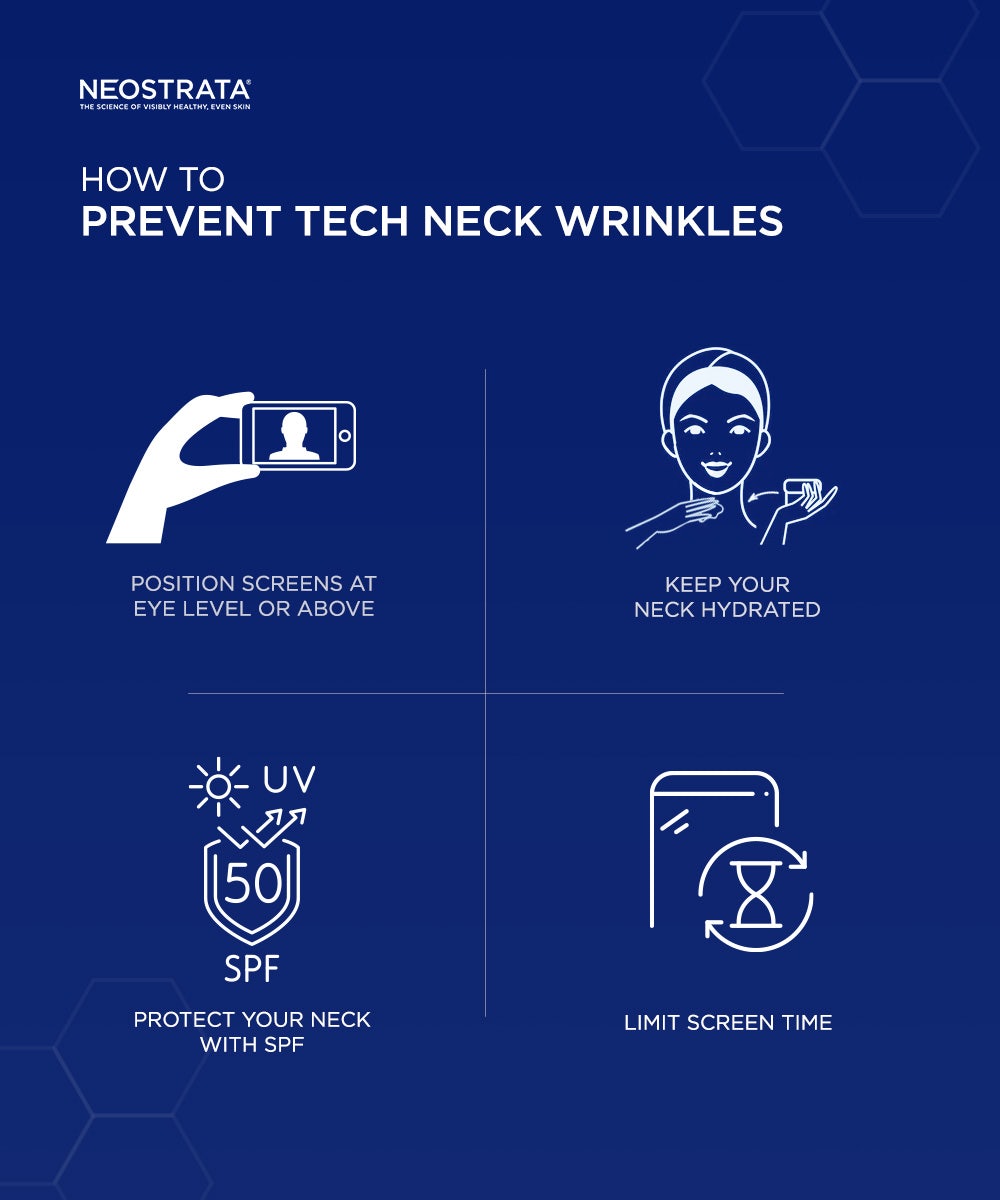 How Do You Correct Visible Tech Neck Wrinkles?
If you're already seeing signs of Tech Neck lines, don't fret because there are ways to help diminish their appearance with topical skincare products. Seek out ingredients to help hydrate and renew your skin.
Some of NEOSTRATA's go-to ingredients:
NeoGlucosamine:

This non-acid amino sugar gently exfoliates skin's surface to improve the look of fine lines and wrinkles. It's also great for addressing dull and uneven skin tone, leaving skin looking smooth and glowing.

Broad Spectrum Sunscreen:

Sun damage can show up as uneven skin tone and dark spots, as well as fine lines and wrinkles. When it comes to preventing skin damage from UV exposure, sunscreen is skin's BFF. Apply broad spectrum sunscreen to your face, neck and decolletage every day, even on cloudy days.

Retinol:

This powerhouse antiageing ingredient enhances skin's natural turnover to improve the appearance of fine lines and wrinkles. It help skin appear more even toned, for a noticeably smoother and more radiant look.

Polyhydroxy Acids (PHAs):

Polyhydroxy Acids are known for gentle exfoliation without sun sensitivity. They also have antioxidant and chelation properties to target environmental factors linked to signs of skin ageing and discolouration. PHAs are strong enough to diminish the look of fine lines and wrinkles yet are gentle enough for use on the delicate neck area and sensitive skin.

Hyaluronic Acid:

This super hydrator has an ability to attract many times its weight of water to the skin. This helps plump skin for a smoother, more lifted look.

Vitamin C:

This potent antioxidant is known for its skin brightening properties. Vitamin C also supports healthy collagen production to reduce the appearance of fine lines and wrinkles, including Tech Neck lines.
NEOSTRATA Products for Visible Improvement of Tech Neck Lines:
Whether you're looking to improve the look of Tech Neck wrinkles or simply want to help support healthier-looking skin in this delicate area, NEOSTRATA has an award-winning neck cream, plus specialised serums and SPF creams to partner with it.
This award-winning neck cream targets signs of ageing in the neck and décolletage area, leaving skin looking firmer while reducing the appearance of fine lines and wrinkles. Triple Firming Neck Cream features 8% NeoGlucosamine for gentle exfoliation that smooths the look of neck lines, plus 4% NeoCitriate and Pro-Amino Acid to support skin's volumizing matrix for a plumper, more lifted look. Use Triple Firming Neck Cream twice daily after cleansing.
If you're into layering, you'll love Tri-Therapy Lifting Serum. This luxurious serum layers well under Triple Firming Neck Cream and targets 3 visible signs of skin ageing with efficacious ingredients:
1. Gluconolactone (PHA): Gently resurfaces skin to diminish the look of fine lines and wrinkles
2. Low Molecular Weight Hyaluronic Acid: Visibly plumps skin with moisture to smooth the appearance of fine lines and crepiness
3. Aminofil: A potent, yet gentle volumising ingredient helps improve the look of expression lines and wrinkles
To layer with Triple Firming Neck Cream, first apply Tri-Therapy Lifting Serum to your face, neck and décolletage. Then follow on the neck and décolletage with Triple Firming Neck Cream.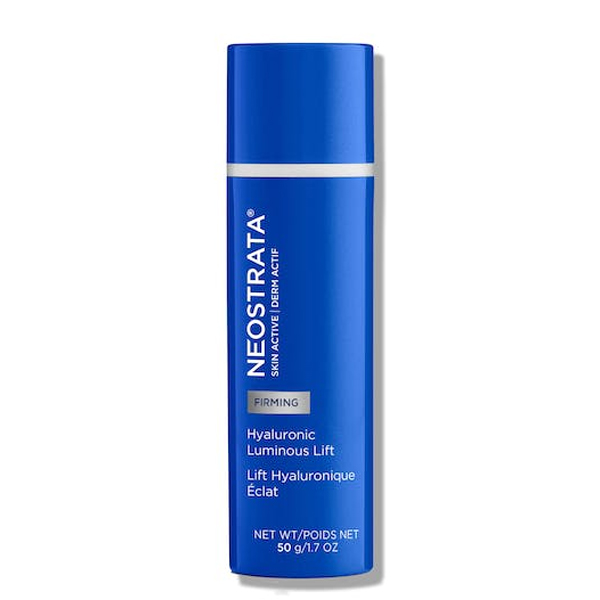 Indulge your neck with plumping hydration that offers 3 sizes of Hyaluronic Acid. Hyaluronic Luminous Lift provides lightweight daily moisture to smooth the look of fine lines and wrinkles, as well as reduce the look of crepiness in the delicate neck area. Smooth Hyaluronic Luminous Lift over face, neck and décolletage up to twice daily.
Got sensitive skin? No worries! This multi-tasking serum uses a gentle PHA, Lactobionic Acid, to exfoliate skin's surface while attracting hydration to support a healthy skin barrier. The PHA in Bionic Face Serum is also a potent antioxidant and chelator that helps protect against the environmental factors that can contribute to signs of skin aging. Apply a pump or two of Bionic Face Serum to face, neck and décolletage using your fingertips for gentle application.
Exposure to UV radiation and other environmental stressors can contribute to signs of skin ageing like Tech Neck wrinkles and discolouration. Use Matrix Support and treat your neck to antiageing ingredients like NeoGlucosamine and 0.1% Retinol, plus broad spectrum SPF in a luxurious medium weight day cream. This formula encourages skin turnover and targets skin's hydrating matrix for a firmer, more youthful look. You'll love adding this SPF day cream to your morning regimen.
Let's face it, the amount of time spent on our screens isn't going away any time soon, but that doesn't mean you have to put up with Tech Neck wrinkles. Position your screens at eye level and invest in high efficacy skincare ingredients to help prevent and correct signs of Tech Neck and skin ageing – your neck will thank you later!
References